The Historical Example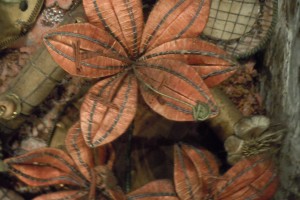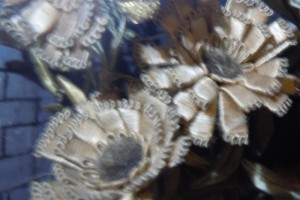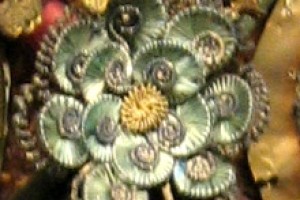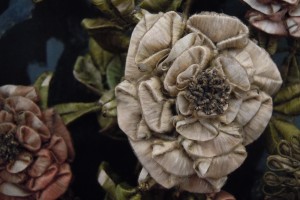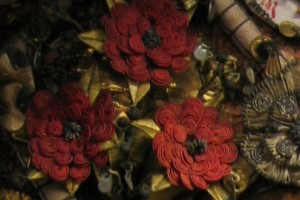 My Reproduction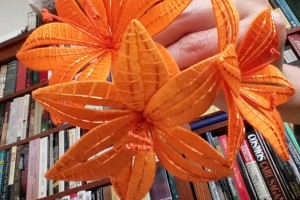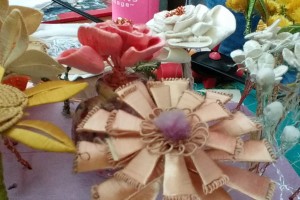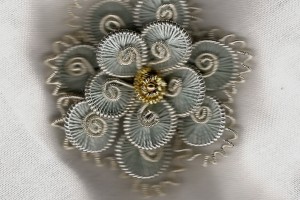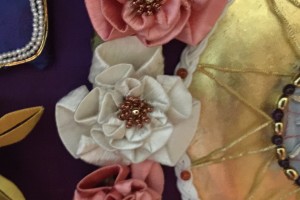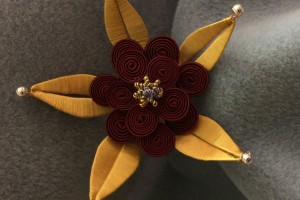 What I Did
There are several different designs of lilies but I chose the one with the double wire secured down the middle of the petal. After much experimenting I determined that the best way to go about creating the lily was to take a fine wire 4 times the length normally used and double it up. I wrapped half the wire in with the petal (on the bottom side) and then doubled it over again and secured it to the top side. When the petal was folded into its final position the wire stayed in place.
The Carnation was a more recent creation because I really had to let the petal fringe percolate in my brain. The fringe is wire wrapped in silk and then coiled but it took me awhile to figure out that I needed to twist that wire so the coil was strung across the top of a Y and then wrap the Y in to the bottom side of the petal.
This was the very first flower I tried to reproduce and I still don't have a name for it – other than I call it a spiral flower. It was relatively easy to figure out how to make this flower but incredibly time-consuming to actually construct it. I coiled all of the wire by hand.
This is my version of the rose found in the shrine at Arras. Almost all of the shrines have some version of a rose but Arras is the only shrine that has the rose in this design.
This is my most recent reproduction but it was also a do-over of my third reproduction flower. Originally I had reproduced this flower in a mauve/pink and now that I have the whole shrine I wanted to see if the dark red would hold its own or still be to overpowering for the rest of the flowers. It looks fabulous in the dark red!