The Original Recreation Project
This project started with the completion of the beaded garden. In researching that project I came across some pictures of the paradise gardens from Ebstorf. I was intrigued with the flowers and tried to find more of them, or at least more pictures of them. Eventually I found the museum in Mechelen and requested some pictures. I was sent some rather nice detailed pictures in response to my request.
I stared at the pictures for many hours and eventually came up with some ideas. I collected some supplies and did some experiments to see what would work. It was rather slow going in the beginning.
The first flower was the blue one on the right and I chose it because it did not contain any parchment. The original and my reproduction were very similar and I was inspired to try one that contained parchment.
For the second flower I chose the one in the upper right corner which contained both kinds of petals. The third was from the top left corner and I decided to do it in a softer color rather than the red because the red seemed too harsh for the little frame. The red does look good in the full size shrine though.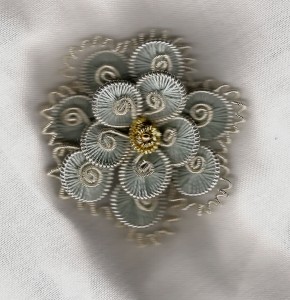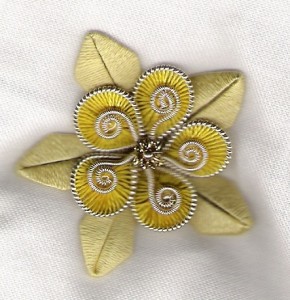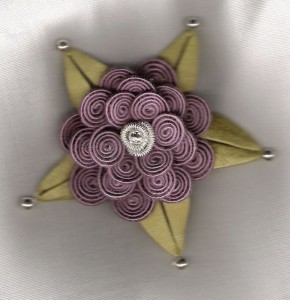 After completing the first three flowers I framed them and wrote up some documentation for them so I could enter them in A&S competitions. This was at about the same time that we stopped having regular A&S competitions in our Kingdom. I did manage to enter it in some bean counts and it did well. I really missed having the opportunity to get useful, written feedback that comes with a regular A&S competition though. So when it was announced we would be holding competitions again ~ I went all out and made a complete shrine.