The List of Existing Shrines:
I have visited all of the shrines dated to before 1600 and some of the shrines from after that time period. I have not yet had an opportunity to see the paradise gardens though and there are some non-shrine flowers I hope to see more detailed pictures of at some point. Here is the list of shrines: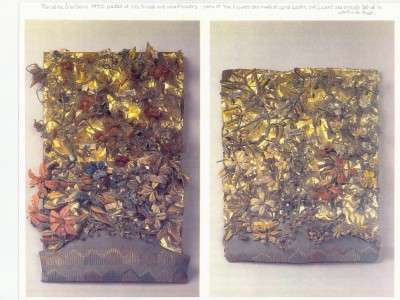 The Paradise Gardens ~ Ebsdorf around 1480
Originally there were 23 of these cushions and they formed a wall in the chapel, separating it from the choir. Additional information on the cushions is located on the Ebstorf Page.
Walsrode – 1490 picture from Bildex
Originally I thought there were two different shrines at Walsrode but it turns out that there is just one and the pictures I have are from both before and after the renovation. This is the before picture.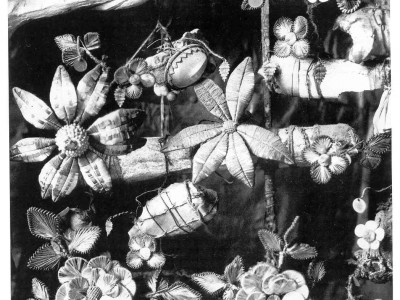 Bentlage/Rheine 1499
This display takes up an entire wall at the convent Bentlage. This picture was taken before the restoration work was done and is a detail of the flowers. There are two quite large reliquaries at the convent. I very much enjoyed my visit here. Additional information can be found here.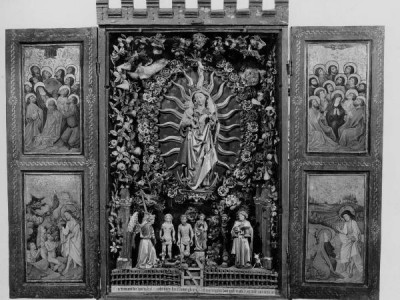 Antwerp 1500
Created in Brabant and listed as B183975.  Currently located at the museum in Antwerp. Saw this one in person on August 31, 2010 at the Antwerp Museum. It is one of the smaller shrines.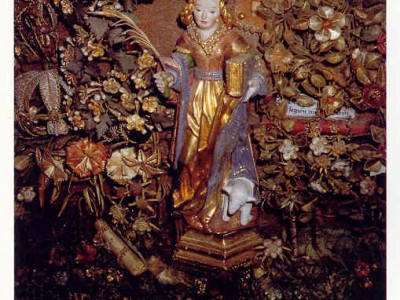 Kalkar 1500
Located in Kalkar, Germany and is cataloged on Bildindex as one of six in the Predella. (RBA 609153,4,5,7,8,and9) Johannesaltar. Each little scene is 33x36cm, or roughly 13×14 inches. One was out for cleaning the first time I was there but I have pictures of all six of them now.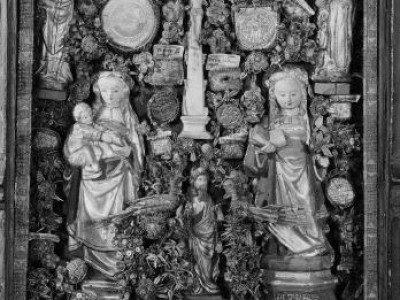 Mecheln 1491-1510
B194258  Located in Balen-Neet, by appointment only. This is a very small shrine which I personally got to hold and pet and photograph.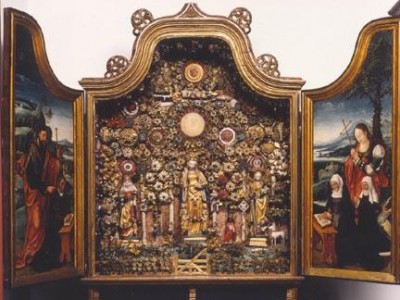 Mecheln 1501-1510
KN8406  Located in Mecheln
This is the one for which I had the most information and the best pictures before the trip. Additional photos of this shrine will be posted on a page of it's own. More on Mechelen.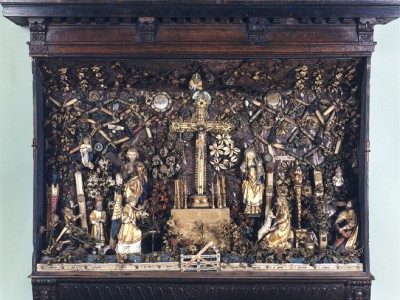 Brabant 1510
KN8407 Located in Mecheln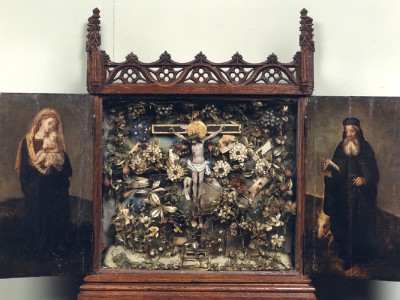 Mecheln 1501-1525
KN8411 Located in Mecheln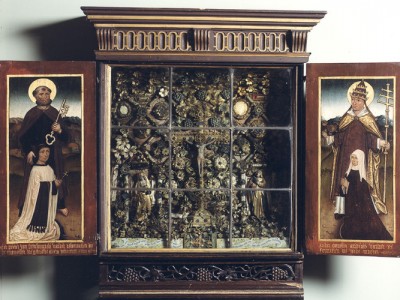 Mecheln 1510
KN8410 Located in Mecheln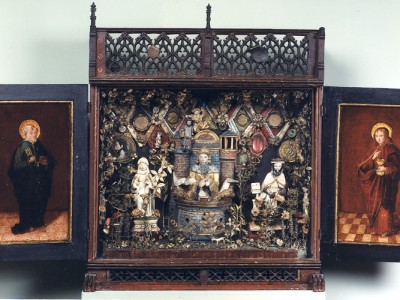 Mecheln 1501-1525
KN8404  Located in Mecheln
We now call this one the shrine of the dead dog because the little dog in front was tipped over the day I was taking pictures. Also the light in the case was burned out so I photographed with my book light. I got some great pictures too.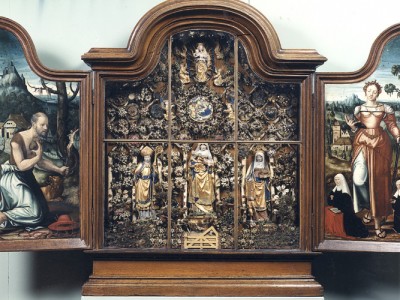 (unknown) Mecheln 1501-1533
KN8402 Located in Mecheln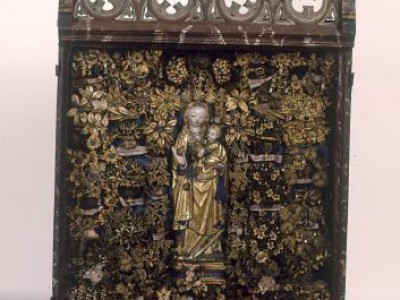 Mecheln 1501-1525
B155312  Located in Herentals
saw this one in person August 29, 2010 and the next day the site was closed for a three year renovation.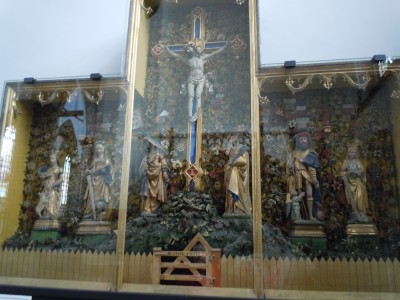 Mecheln 1501-1525
B32398  Located in Gheel
Huge – saw this one in person August 29, 2010 and it is lovely – lots of beads everywhere on this one.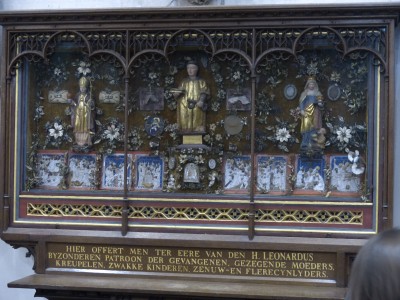 (unknown) 1501-1550
A16797  Located in Saint Lenaard's and I saw it in person on 30-11-14. We waited for the church to open for services, went in and took the pictures and then headed homewards. It was the last shrine on my list to see.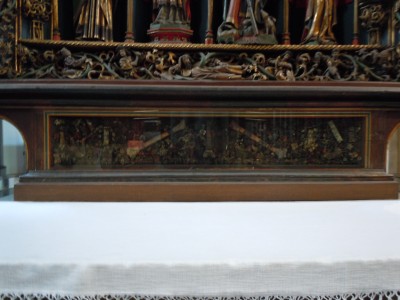 Xanten
The larger of the two shrines, I recently discovered this one as the church was being renovated the first time I was there and it wasn't on display. It is very symmetrical in it's appearance and contains some really stunning peacocks. I have no additional information on it at this time.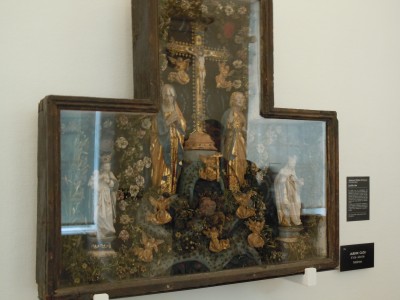 Arras
This one is located at the museum in Arras, France and is of medium size. I have no additional information on this one at this time. 
Other Shrines of Interest:
The Other Shrines listed below are of interest because they are similar to the Besloten Hofje in some way.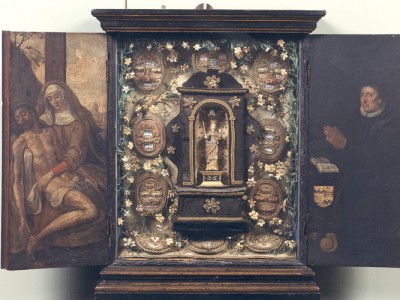 Mecheln 1539
KN8412  Located in Mecheln
This one does not contain silk flowers, the flowers in this one appear to be cut paper.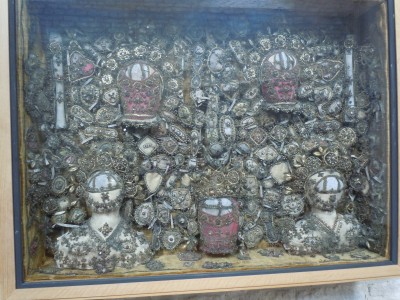 Melsbroek
This one dates to after 1600 however it makes a good contrast to the rest of the shrines because this one has lots of skulls and is surrounded in metals rather than silk for the flowers.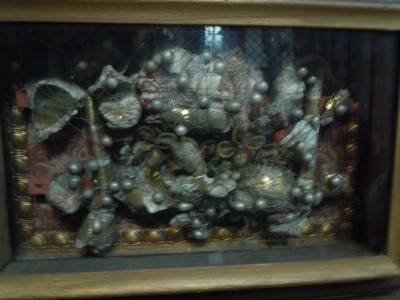 Xanten
There are two separate shrines in Xanten and this is the smaller of the two.
I also think it may be 17th century because of the altar it's attached to.